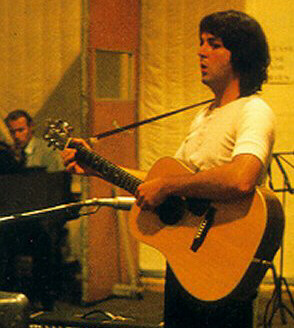 Paul McCartney and his Martin D-28, with which he recorded "Blackbird"
Post-Impressions:

a series of reflections on a work of art written long after the first impression of that work has taken effect. In fact, so many impressions of the work have passed by, the original impression has been all but forgotten or at least irretrievably altered.
NOTE: this essay was originally published on Paul McCartney's 71st birthday.
What if this is what you saw the first time somebody ever showed you the Mona Lisa (note the mustache)?:
Or if this was the first time you ever heard Beethoven's 5th?:
What if our first experience with a great work of art or at least a work that has had a profound influence on us was not the original work itself but a copy, a simulacrum, a parody, or a reinterpretation? Does our first-impression of the copy win out over the subsequent impressions gained from the original work, or will the original work eventually supersede the copy? My contention is that if the original is powerful enough the surrogate works will inevitably recede into the distances of one's memory. But my intention is not to squander any attention of yours I might have gained by pontificating philosophical abstractions. No, I want to tell you about a work of art that has influenced my life deeply, and to do that I have to enmesh that work within my own story...
When I was growing up we did not listen to The Beatles in my household. There were no Beatles records or CD's or tapes. I had heard of The Beatles, had heard a few of their songs and had begun liking them, and was intrigued by their legend, but their music was mostly unattainable for me. I remember trying to listen to the local oldies radio station at just the right time in the morning—right before the bus came as I waited in our car at the bottom of the hill where we lived—so I could listen to their Breakfast With The Beatles segment. If the bus was just late enough I might get a chance to hear "Hey Jude", or "Eleanor Rigby", or "I Saw Her Standing There". It was years before I actually bought a Beatles record.
My son, on the other hand, listens to The Beatles in the car on a regular basis and he is only four years old. His father (me) has taken the initiative to share this music with him—it has been a priority, in fact. I grew up listening primarily to what is known as Contemporary Christian Music (CCM) and even though I still like a majority of the music I grew up listening to, there is a whole lot of music I have had to be intentional in seeking out on my own—not least of which is The Beatles. Not so with my son—he will have the great musical works of Western Civilization thrust upon his ears—everything from Bach and Beethoven to Bluegrass and all of my personal pop, rock, and folk favorites. Our routine in the car is that he makes the music requests and I play DJ, changing the discs in and out according to his whims of the moment. Right now he is transfixed on Newsboys, Paul Simon, Rich Mullins, and Vampire Weekend (all excellent pop/rock/folk music in my opinion), but for a while it was The Beatles.
In the midst of this nearly daily routine I have been struck at how different my own first impressions of The Beatles were. Everything was piecemeal. A few songs on the radio and whatever I could absorb from the torrent of material that was on the Anthology documentaries that played on TV during my youth (I remember being utterly blown away at both watching the video for and then listening to "Hello Goodbye". I just could not believe such a song existed.). And then, sometime in high school I "heard" "Blackbird" for the first time. Actually, the odd thing was that my very first experience with it was reading sheet music for it. I was in a small sized vocal ensemble and our director (the inimitable Mr. Ron Kiesewetter, who taught me that music should be performed with both utter joy and disciplined excellence--he is in the top 2 or 3 of music influences in my life) was having us learn a choral arrangement of the song as sung by The King's Singers . I sang tenor and therefore was made to learn the 'g' note droning part: "dun, du, du, du, du, dun… dun, du, du, du, du, dun… dun, du, du, du, du, dun". If you are familiar with the original song listen carefully for that drone on the 'g' string of the guitar. I got to hear the song built from the ground up, with each individual vocal line taking on an aspect of McCartney's guitar picking, and as I began to absorb the melody a very simple thought came into my mind: "this is a really good song." I should also mention that up to this point I had no idea that this was a Beatles song.
Over the next couple of years I became semi-obsessed with the song. Even though I had yet to hear the original version, I had a friend teach it to me on guitar (my Beatles obsessed friend Robbie who I have mentioned before in this blog), where I used my memories of singing it a capella to aid my learning. Then, a couple of years later when I was living in England for three months doing ministry I was delighted to discover one of my host families had a copy of Anthology Vol. 3, which had an alternate take of "Blackbird." I would sit in their back sun-room where their stereo was and play the song over and over again, hoping to play it just like Paul. Little did I know that this version was arranged slightly different than the official album version.
By the time I actually got to listen to the "original" album version of "Blackbird", I had already logged so many "Blackbird" listening and playing hours that I actually have no memory of the event. I only remember thinking, "I can't believe they actually put a recording of birds on there—that doesn't seem right." I was so used to all the other versions I had heard, that The White Album version became the cover version for me, and that The Beatles' use of the blackbird sounds almost seemed contrived and gimmicky, as if their version was trying to be cooler than the 'original' version. Now I am more used to the actual original version, but it was a strange progression from sheet music, to singing it with a choir, to playing it on guitar, to hearing alternate takes, to finally hearing the "canonical" version of the song.
A couple of years ago I was saddened upon reading an article on the AVClub where the author
said he never really listened to The Beatles anymore because his parents overplayed when he was a child.
To him The Beatles' greatness was a forgone conclusion, but he could not really hear them anymore.
Their music was no longer special because it had become too familiar.
My son was introduced to "Blackbird" in a way entirely different from myself. He had it placed right in his path as a young child by his father who was all but saying to him "This is a great song. You will listen to it and you will like it." My introduction of the song on the other hand was something of a reduction of a reduction of the original. I was given the scent of something whose beauty I could not help but follow all the way to the source, no matter how long it took. Our first impressions of these songs were radically different from each other, but my hope is that in the end our shared experience will be the same. That
he may never take this music for granted, that he will not come to see "Blackbird" and the other songs I play for him as merely trite "kid songs" that he has now grown out of, that these songs will endure, that they will always be magical songs, wondrous songs that take him to another place; that they will always be great songs to him. I am trying to create a bond with my son and it is through music. I want him to grow and I want to grow with him—together. This is our journey.
With all this in mind let me just say I am very thankful the video posted below was not the first time I ever heard "Blackbird". Bobby McFerrin is a master, no doubt, but can anyone really know what is going on with this song if they had not heard the original version first?
Podcast Episode: Beatles' Documentary "8 Days a Week" With Trey Mowder